Missions Pastor: Jeff Holeman
662.234.3515 or
Local Missions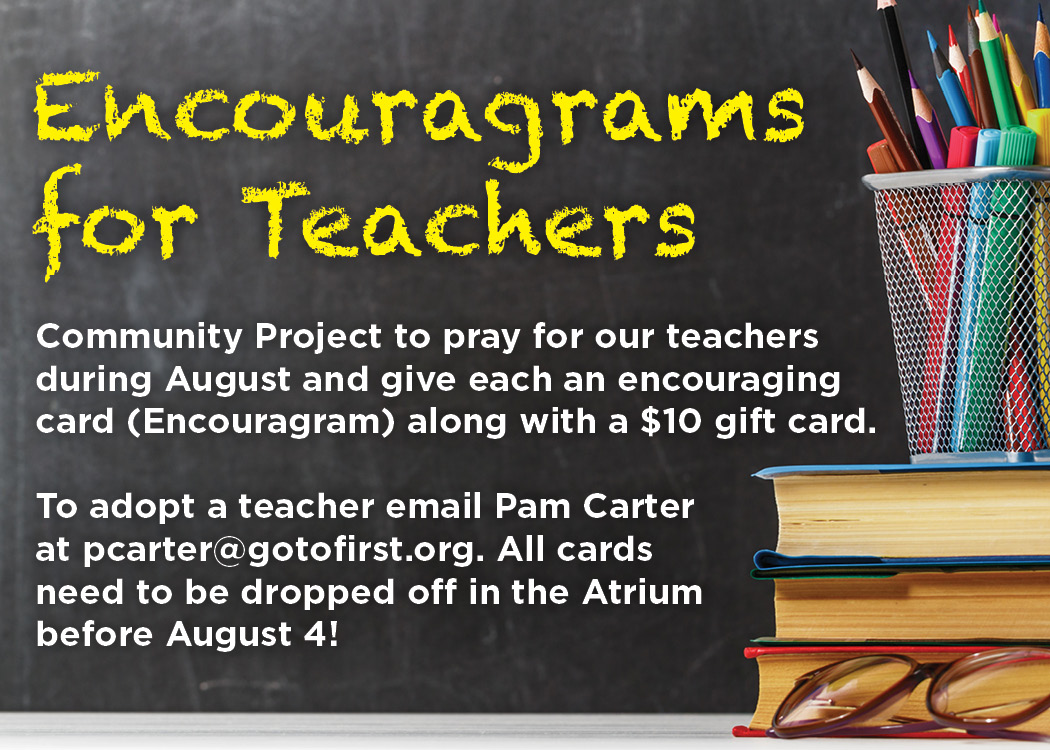 FBC Oxford has adopted the teachers and administrators at Bramlett Elementary and Della Davidson Elementary to pray for during the month of August.
A part of this Prayer Project is to give each teacher an encouraging card (Encouragram) along with a $10 gift card. If you would be willing to adopt a teacher/administrator, write a card and include $10 (check to First Baptist Oxford), please email Pam Carter at She will assign you a teacher. Please do not seal your envelopes so we can put the gift cards in the envelopes. A box is on the welcome desk in the Atrium to drop off your cards between 10 a.m. and 3 p.m. each day.
---
The Links Outreach: Bible Study Sundays at 7 p.m. outdoors by Apt. 31. If you are interested in joining this study, email for more information.
The Links Outreach: English Learners' Class for Women
Tuesday at 11 a.m. on Zoom. If you know someone who would like to participate (learning or leading) please call the church office. Email for Zoom meeting information.
USA Missions
Live Oak Church, New Orleans
Trips scheduled three times per year.
International Missions
Rome, Italy Mission Trip. December 10 to 19.
Ministry to refugees, college students, and missionary famiiies. Trip includes time seeing major sites in Rome. Cost is $1400 includes all expenses. $400 deposit is due August 1.
Online Oaxaca Leadership Training.
Selected evenings this summer. If you would like to help lead a training time, please call Jeff Holeman. Materials and training provided. Translation to Spanish will be provided.
Oaxaca Women's Trip. November 5 to 10.
$200 per person. Ministry to women in villages.
Oaxaca Leadership Training. November 12 to 16.
$200 per person. Training church leaders for effective ministry.
Mission Partners
The Oxford Food Pantry
The Pregnancy Center
Interfaith Compassion Ministries
Veteran's Home
The Links Apartments
Brittany Woods Apartments
Mondays in Marks
Prayer Walking Oxford Neighborhoods
Monday Night Outreach (as scheduled)
AWANA
Double Decker Arts Festival (April each year.)
Click on logos to find out more about these mission opportunities. Be aware that these pages are maintained by external providers. Although we make every effort to ensure these links are accurate, up to date and relevant, First Baptist Church bears no responsibility for the content of the external sites.