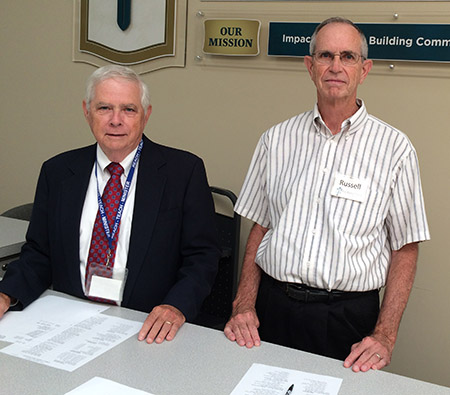 How many Sundays have you missed church in the last 26 years?
For the Welcome Center duo at our church, Russell Finley and Dreher Harris, they've only missed one or two.
That's right, for over a quarter of a century Russell and Dreher have been in charge of gathering Sunday School records and providing a welcoming presence to people as they enter the Atrium.
They became friends while volunteering together, and they started volunteering just because someone asked them to help. And being helpful is why they enjoy serving each Sunday.
Dreher likes seeing familiar faces each week and especially being able to help first-time guests find their way around. "If a little child is having a bad day, we can help the teacher find Mom," adds Russell, who pointed out that he and Dreher are two of about only a handful of people in the church who know where all the Sunday School classes are.
Thanks Russell and Dreher for serving so faithfully!